"Taste is experienced through the brain"
This is becoming a part of the basis for my creations. When we experience senses of taste on the tongue such as "sweet", "spicy" or "sour", those tastes by themselves have not yet turned into the taste we think of as "delicious". The amalgamation of tastes that we receive from our palate assemble in our brain to form the taste we perceive as pleasurable. I believe that "delicious" is not only something that we sense through taste but rather something that is felt through everything that surrounds us, including the things we see, smell and our emotions experienced at the moment. That is why at Fujiya 1935, my experience is utilized to create an atmosphere where customers can see, hear, and feel, "deliciousness". In addition, we believe that eating should be a fun experience, and we aim to incorporate this as an important element of our cuisine, and strive to make it an enjoyable and unforgettable experience for guests at Fujiya 1935. Cuisine is created with a sense of "intuitive amusement" with warm hospitality and service provided to customers which we hope will spark lively conversation and lasting memories. We would like everyone have a fun, relaxing experience at Fujiya 1935.
"Expressing my ideas through cooking"
Expressing myself and my ideas through my creations has become an important part of who I am. My creations are the result of all the things I've felt throughout my life, the things that I have thought about, as well as experienced. All those feelings and senses have been channeled into my own creations for the concept at Fujiya 1935. The feeling derived from each savory bite of delicious food, and the feelings created towards food; a child-like impulse, full of curiosity. That moment pleasure is derived from eating: it was a feeling from culinary experiences in Italy and Spain, filled with satisfaction from eating. A culmination of the various types of cuisine that I've been exposed to in my life and the feelings of those people that created them, as well as the sensations and the deep impressions they left on me. All of this integrated with the essence of my own experiences as a Japanese person. This continues to the present day with all the various things I experience everyday. The resulting fusion of these things is the style created at Fujiya 1935.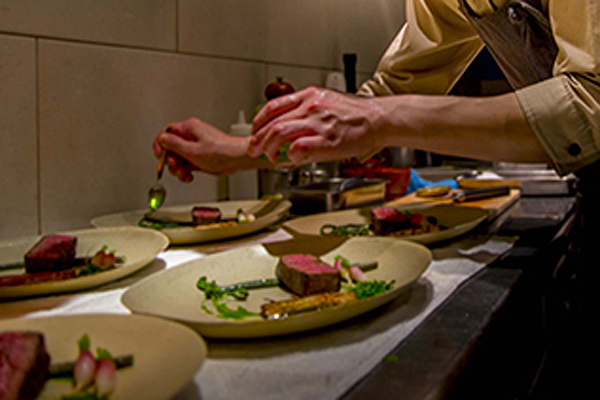 Chef and Owner Tetsuya Fujiwara
Born in Osaka in April of 1974 into a family of chefs spanning four generations. After passionately studying French cuisine and confectionery at a culinary school, and subsequently working in a hotel, he decided to embark to Italy at the age of 24. Following training in Italy, he decided to travel to Spain to study neurogastronomy and the leading innovative cuisine at L'Esguard, training under the famous neuro-surgeon and chef Miguel Sánchez Romera. In 2003 he returned to Japan to continue the family business and start "Fujiya 1935".